Saving Your Work
When logged into MyVLab, you will be provided two main locations to save and load files. Understanding the difference and how best to utilize them can improve your experience with MyVLab.
MyFiles Personal Storage
MyFiles is 10 GB of storage for general file storage available to all students and faculty. This storage appears in both MyVLab and all WTS Genlabs as the mapped network drive "H: MyFiles" in My Computer. In addition, any files saved to My Documents in MyVLab and the Genlabs will be saved to the Documents folder in your MyFiles H drive.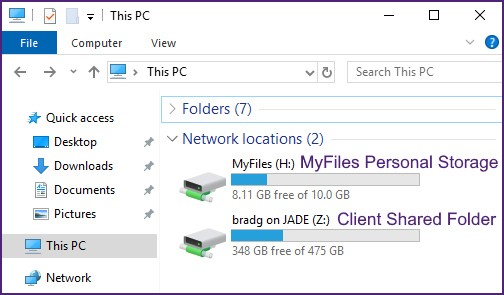 When to use?
If the files you are using in a MyVLab application are large in size, it is suggested practice to save the file to your H drive when working on them to ensure the quickest performance.
Client Shared Folders
Secondly, you are able to share folders on your local computer with the remote session. By default, the client should ask on first login if you want to share your local profile folder with the remote desktop. If you missed this prompt or want to change/add folders to share, you can configure these settings later.
Note: Client shared folders are not available when using the Web Access Client. Use the file transfer panel to upload/download files between your computer and MyVLab instead. See this page for more information. 
Windows and Linux
After logging into the VMware Horizon Client, but before launching your MyVLab session, right click the MyVLab box and click Settings, then in the new window, select the Sharing tab. Here you can change/add folders to be shared with your remote sessions, as well as enable the option to connect your removable devices such as USB drives as well.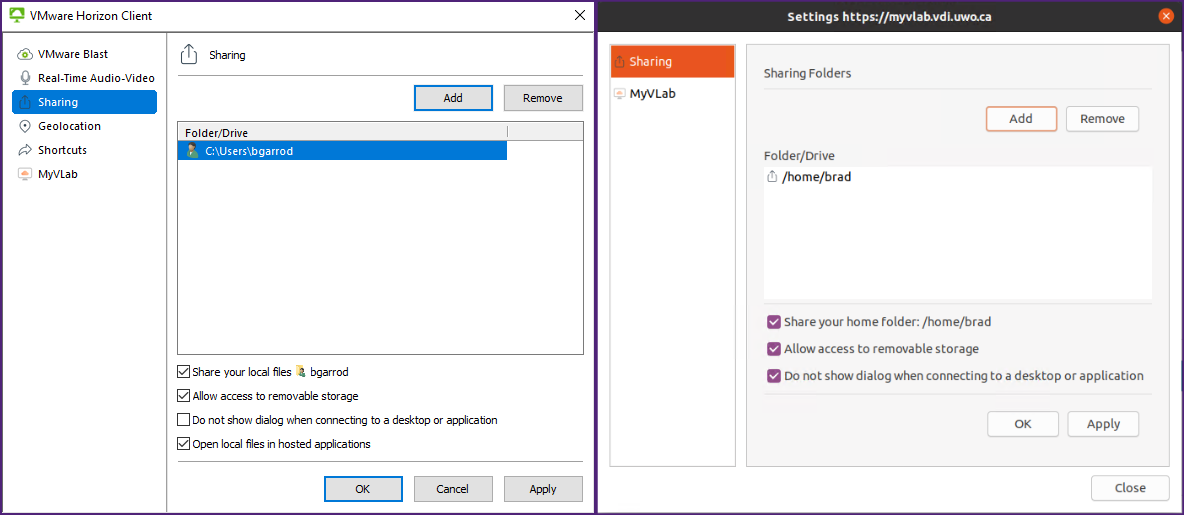 Apple
With the VMware Horizon Client open, click on the VMware Horizon Client menu in the menu bar and select Preferences.... In the new window, select the sharing tab. Here you can modify the shared folder and add more if needed.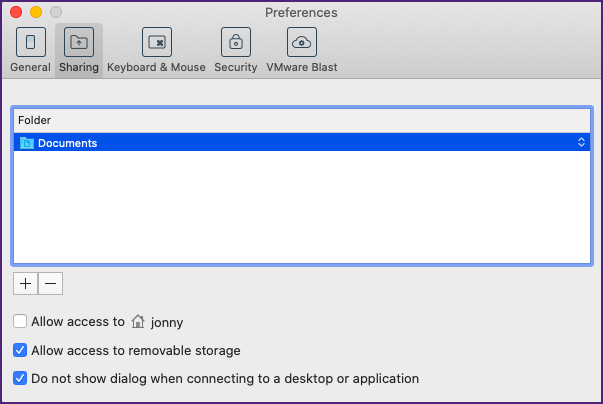 When to use?
You can use your client shared folders as storage for saving and loading small files for use in MyVlab. Also, if you need to take your work outside the MyVLab or the Genlabs environments (e.g. to submit your work) you can copy or save your files to these folders to take your work to go.
---
Published on  and maintained in Cascade.